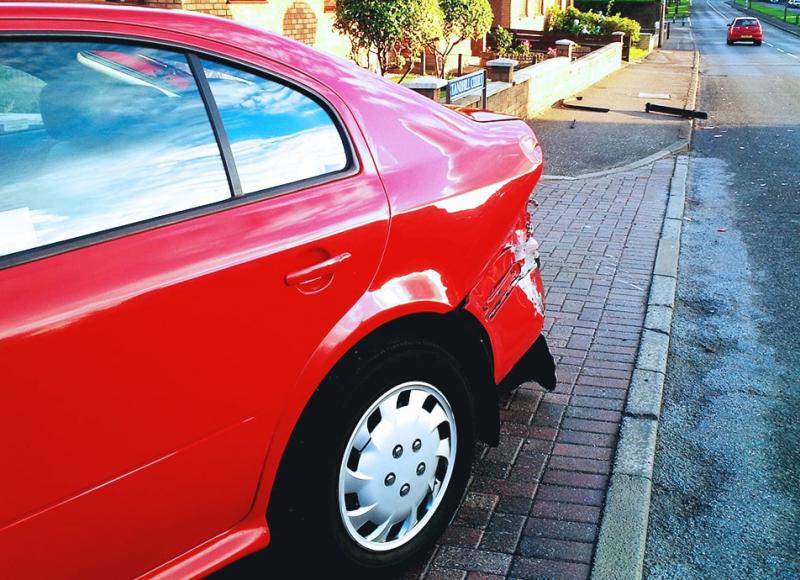 Did you know that the vast majority of all hit and runs in the United States involved parked cars? This is quite common, and most hit-and-runs happen in parking lots, which makes sense. Being something that can happen to anybody, whether they are the person who has had a parked car hit or are the person whose parked car has been hit, it is essential to know how to proceed after the event happens.
Staying calm is incredibly important, as is making sure you are aware of what to do next. If you have hit another person's car, for example, you will want to stay on the scene. The reasons for this will be covered shortly. If your car has been hit, what you need to do next will be a little bit different depending on whether or not the other person involved is still on the scene. Regardless of your situation, there are a number of things that you should be aware of if you are involved in a situation involving a parked car being hit.
What To Do If I Hit A Parked Car
First, breathe in. Then, breathe out. More importantly, try to stay as relaxed as possible. People's first instincts when they hit another person's vehicle are to panic. While it can seem to be a very stressful situation, know that this type of thing happens to most people over the course of their lives, sometimes multiple times. By knowing what to do, you can save yourself a lot of hassle and stress later on. Here are the main things that you should be aware of if you hit a car that is parked.
The biggest thing that you can do to protect yourself if you hit another vehicle while it is parked is to stay on the scene. In every state, as well as the District of Columbia, it is against the law for people to leave the scene if they hit a parked car. This is called a hit-and-run, which can come with substantial penalties for people who are convicted. With many places of business having cameras, potential witnesses, police that might be in the area, and a wide variety of other factors, it can be easier than people suspect to get caught if they attempt a hit-and-run.
The penalties for being convicted of a hit-and-run can include misdemeanor charges, significant fines, and depending on the state, jail time for community service. It is also possible for your driver's license to be suspended, as well as your registration. Being charged and convicted of a hit-and-run accident can also add up to six points to your driver's license, which cannot only affect your insurance rates but can also limit you from being able to get jobs that involve driving a car or other motor vehicle.
Each state has different laws and requirements. In some states, you are legally required to try and find the owner of the damaged vehicle. In other states, you are required to leave a note on the vehicle if you need to leave the scene and cannot find the owner otherwise. Remember, there is a high likelihood that either someone saw you hit the car or that one of the millions of surveillance cameras around the country, protecting businesses, streets, homes, and otherwise, saw you hit the other person's vehicle.
If and when the police are called, they will utilize the evidence they have, and while many people think that they can get away with the hit and run, many of these people to get caught. You might the on the hook for expenses related to the hit-and-run, including the extra expenses pertaining to investigation fees and legal fees.
For most people, the potential jail time and additional financial costs are not worth it. This is considered a major violation and can affect the status of your driver's license. Staying on the scene, leaving a note if no one arrives, in addition to taking pictures of the damage and license plate of the other car, are all important steps. You will also want to look for potential witnesses and take down their information. Communication with the other car owner, as well as your car insurance company, will be essential.
What To Do If Another Driver Hits My Parked Car
There are two ways this generally goes, the first of which is the one to hope for. If the other driver has waited for you to arrive or has left a note, collect their information. You will want to get their name, address, contact number, explanation of the accident, and their insurance company and policy information. Also, you should look around the area for other potential witnesses. This makes it easier for the auto insurance company to follow through as they investigate. Keep in mind that surveillance cameras in the area can also be used in an investigation.
Additionally, you will want to take photos of the damage to both vehicles, as well as get a picture of the license plate number of the other car. Make sure to take these pictures before you drive away from the scene, documenting your damage before you leave. Keep in mind that in many places, you are required to contact the police if your vehicle is involved in an automobile accident of any kind. If the damage to your car is noticeable, you should reach out to the police. The report that they file can help when it comes to filing a claim. In addition, people tend to answer questions more easily if they are talking to a police officer.
You will also want to contact the insurance company. Contacting the other person's insurance company is the place to start if the other driver is at fault in the accident. If their insurance company does not follow through or resolve the issue, contact your insurance provider so that they can begin the claims process.
It is crucial that you not try and settle issues like these without going through the insurance companies. If you take too long to report the accident to your insurance company, because the other driver failed to follow through with their end of an agreement, your car insurance provider might not cover the costs of the accident.
If another driver hits your vehicle, and does not leave a note or leaves the scene, you can still check for witnesses to see if they saw anything. Take pictures of the damage of your vehicle, look around to see if there might be any businesses or other security cameras in the area, and contact the police. Both the police and your insurance company should be contacted. There will be an investigation, and both the police and the insurance company will keep you in the loop. Keep in mind that your collision insurance coverage, if you have it, might cover the costs of hit-and-run accidents. Be sure to ask your auto insurance provider if this is the case.